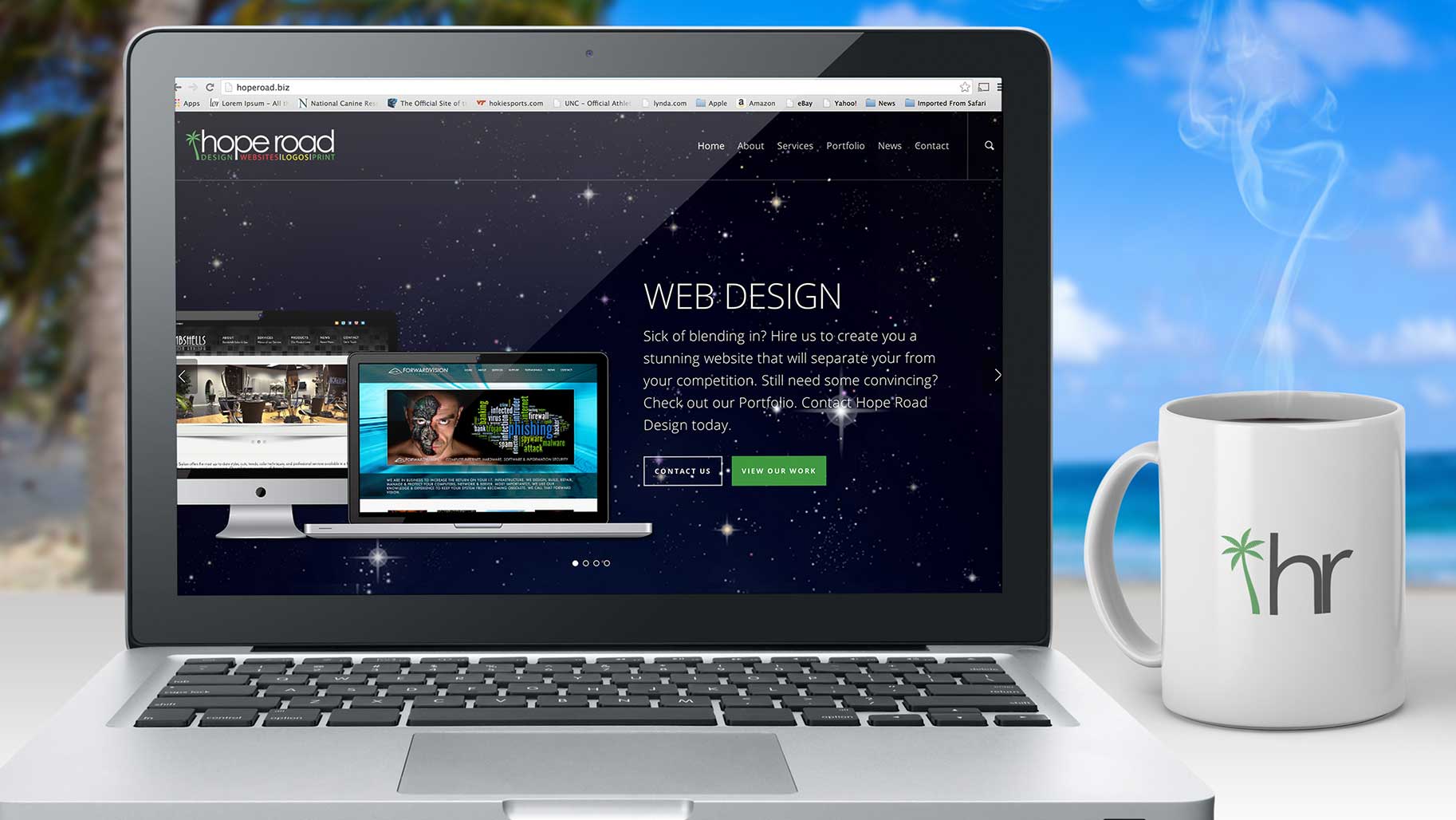 This could seem like a stupid question but it's not.  Believe it or not there are proven formulas that work for a successful website.  Here is some basic advice from our web design agency that will help you make sure you have the right content to turn visitors into customers.
You want your homepage to be compelling and keep your site visitors engaged.  Your homepage should be a table of contents for your website, making the most important information the easiest to find. Most visitors don't stay on a site longer than 4 seconds, which gives you a small window to captivate your audience and lead them to click through your website.
Here are some essentials to put on your homepage.
Logo – This should be the first thing your visitors see.

 

It lets them know where they are and who you are.

 

Often the top left hand corner of the website is the most successful place to put your logo because it's the first place your visitor will look. Our website design firm has created many logos for companies located in Virginia Beach, Norfolk, Chesapeake, Portsmouth, Hampton, Newport News, Suffolk, Hampton Roads, the the Outer Banks.
Contact Information – It should be obvious and easy to spot.  After all the ultimate goal of having a website is to turn potential clients into actual clients.

 

If they can't contact you, your chances of turning them into a client drop dramatically.
Clean and Easy-to-Use Navigation – Your navigation should be across the top of your website and be easy to use.

 

A user should have to make no more than 3 clicks to find the information they're looking for.

 

Navigation gives you the ability to guide your visitor through your site easily so they can find what they are looking for fast.  A great web design firm will guide you identifying outstanding navigation buttons and structure.
A Call to Action – This is something that is often left off of all sorts of promotions, websites being no different.

 

You want to prompt your site visitor to take an action, whether it's to contact you, purchase a service or item, or sign up for a newsletter.
Services or Products Overview – You should have a brief overview of the services or products you provide to your audience.

 

Start with the most popular sellers with a brief overview of what that service or item can provide your potential client.
A Brief "About" section – Give a small overview of who you are and your mission.

 

This also gives you the opportunity to create a personality and a voice that can transfer throughout your website. People want to connect with a purpose or a story.
Links to Recent Blog Post – This will help lead customers to your most recent articles about your profession or business.
Social Network Links – Links to your social networks should be easy to find.

 

People are very engaged in social networking and this gives interested visitors an opportunity to follow your company.
About Page
The goal of the "About" page is to create the personality of your company.  Experts at our website design firm suggest some must-haves to create a strong "About" page.
A Brief Bio and Your Purpose – Remember the brief "About" section we put on the home page, this is where it should lead to with a more detailed version of that text.
Meet the Team – Pictures and small bios of your team give your website visitors the opportunity to connect with you or a member of your team in a personal way.

 

It also makes you human and creates a relationship with your potential clients.

 

The photos should be professional head shots displayed in a manner and mood that fits your business.
Certifications or Awards – If you have any certifications or have won awards in your field of business, this is the place to display them.
Testimonials – This a great opportunity to show potential clients the positive experiences your current and past clients have had, and add to your credibility.
Avoid Getting Too Personal – For safety purposes don't put your children's names, your home address, specifics on places you attend and times you'll be there. Remember, this information is available to anyone with an internet connection.
Services or Products Page
This is the place where you put all the information of the services or products you provide.  For many companies, that's a lot of information.  A great web design agency will be able to organize your information in an easy-to-understand manner for you readers.
Blog
Your blog is very important to the success of your website.  Here is where you offer free information, tips, advice and other points of interest that will help your potential clients. Blog Posts can be shared on social networks and lead more traffic to your site.  They also show up well in search engines and give your site better Search Engine Optimization. Studies have shown that businesses that blog create 66.7% more leads than those who don't.  You can't afford not to do this.
Contact Page
The name explains it all.  This is a page where site visitors from Virginia Beach, Norfolk, Chesapeake, Portsmouth, Hampton, Newport News, Suffolk, and the Outer Banks can find all the different ways they can get in touch with you.
A Few Things to Avoid
Irrelevant Images or Content –

 

Putting an image up just for the sake of having

 

one is something to avoid.

 

Make sure that is every image on your site is relevant and has a purpose.

 

The same goes for content, all content should be relevant to your website's purpose.
Hyper-mediation – Your website should be designed in way that information is given in the order you planned for.

 

Too many distracting links or images convolutes your message, confuses visitors

 

and sends them to your competition.
Flash Files – Flash at onetime was the only way to create motion on a website.

 

That time is gone and so is browser support for flash.

 

Mobile devices don't read flash files so almost 40% of the people visiting you site will not get this information.

 

Now

 

html 5, CSS3 and javascript give web designers the ability to create motion on your site in a supported language that works

 

on desktops and mobile devices a like.
If you need help with your website contact Hope Road Design, we'd love to hear from you.